Published at San Francisco State University since 1979, Urban Action is an annual journal edited and produced by undergraduate students enrolled in Urban Studies & Planning courses at SFSU. Over the years, Urban Action chronicled the evolving, changing, and ongoing interests of San Francisco State students.
It consists of peer-reviewed student research papers, interviews, photo-essays, poems, illustrations, short fiction, and related material of interest. Its content represents the interdisciplinary depth of the Urban Studies & Planning program and the diverse student body of SFSU. And it encapsulates current perspectives and outlooks in the field of urban studies and planning.
While Urban Studies & Planning students usually form the majority of editors and contributors, participation by interested students in related majors is encouraged. Academic credit is available through USP 686.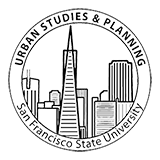 Archives: