La Necesidad For More Latina Superintendents! : An Autoethnographic Account of a Latina Navigating to the Superintendency (Dale, Dale, Dale! A.k.a., The Mexican Piñata song)
Abstract
 Women in educational leadership positions have to break a glass ceiling to get to the top despite their dominance in the teaching profession and as California educators. Latinas (Latinx women)1 however face far greater challenges, not only does sexism present challenges but so does racism (see Campbell-Jones & Avelar-Lasalle, 2000). The tenacity, strategies and fortitude are more akin to breaking a piñata, much more challenging and with a greater risk than a glass ceiling. Educational attainment, career support, gender and cultural bias all factor into some of the many challenges Latinas face as they aspire to higher levels of educational administration positions. The challenge for Latinas can be greater than for others, however, the journey and lasting effects are worth it, just as the treats that flow from a well-broken piñata, the rewards of holding the position of Superintendent are significant for those that aspire to and accomplish the goal, and are celebrated by those who assist and participate in their efforts. 
This autoethnographic study focuses on the Superintendency from a Latina perspective. The study presents specific insights and lessons learned that can assist Latinas and people of color who are high-level2 and district administrators or those who aspire to the superintendency. There are 1,037 school districts in California (CalEdFacts, 2019), thus the information and lessons learned from my experience may also characterize the superintendency and/or high-level administrative positions. The importance of my experience rests in the fact that while the total number of Latinx administrators comprises approximately only 23% of site and district administrators in California as compared to the majority who are White and comprise approximately 59% (CDE/DataQuest, 2019), equity scholars would find this problematic given that the overwhelming majority of students in PK-12 schools are Latinx.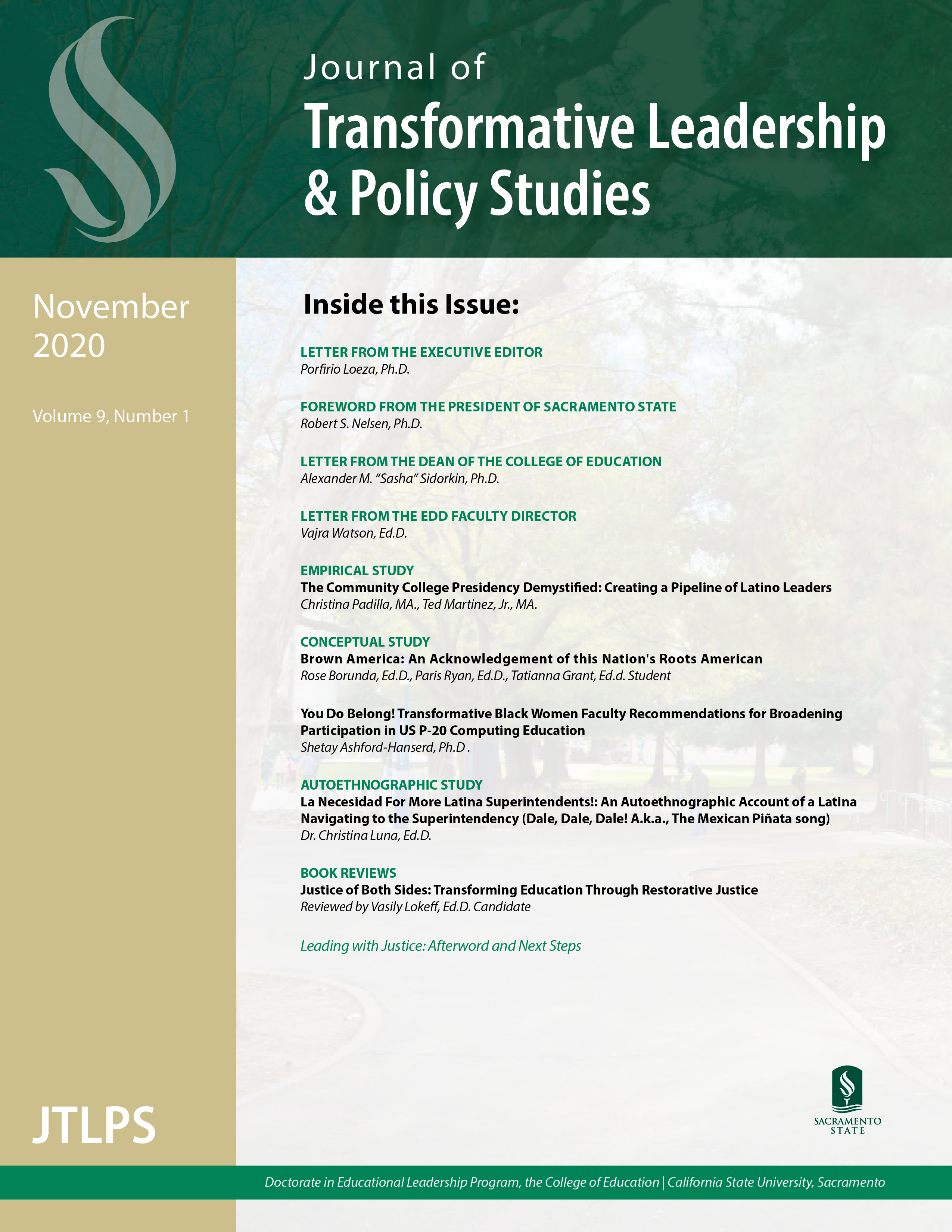 Section
Autoethnographic Study
Copyright (c) 2020 Journal of Transformative Leadership & Policy Studies
This work is licensed under a Creative Commons Attribution-NonCommercial-NoDerivatives 4.0 International License.
Copyright policy