Moving Past Disconnected Hurdles
Empowering Graduate Students to Affect Positive Change Through the Thesis and Dissertation Experience
Keywords:
Graduate Students, Thesis and Dissertation Process
Abstract
This article argues for the need to significantly adjust the process and focus of the educational thesis and dissertation to better match the preparation and needs of students who are practitioners in order to help these students become stronger and better educators and leaders. To that end, the article presents innovative approaches to improve experiences for graduate students who are developing, conducting and completing master's degree theses and doctoral dissertations in the field of education.
The vast majority of students who pursue master's or doctoral degrees in education do not intend to become researchers or university faculty.  Rather, most of these students are looking to improve their skills as teachers and educational leaders, and will likely never conduct a major research effort beyond the thesis or dissertation.  While these students have a great deal of practical experience in their field, most of them have had little or no exposure to graduate level research, scholarly literature or academic writing.  Recognizing that research skills including data collection and analysis, and academic writing are essential skills for all graduate students including those in educational programs, these skills alone are inadequate in preparing educators for the realities they face as they work to conduct multi-tiered and multi-faceted research that will affect positive change and contribute to the field to improve overall student success. For many of these students the thesis and dissertation, while a significant requirement for the degree, are viewed as major "hurdles" that are too often disconnected from the realities and complexities of the classroom and administrative office. 
Appropriate theoretical and conceptual frameworks are used to examine how the educational thesis and dissertation process can be improved to better serve the needs of educational practitioners.  This includes the use of Role AcquisitionTheory (Thornton & Nardi, 1975) to examine and help facilitate the intrinsic change process in graduate students in education during the thesis and dissertation process. Transformative Learning Framework (Cranton, 2016) is used to better understand and advance developmental changes and scaffolding that are necessary to examine problematic frames of reference, openly reflect, and to emotionally change from the experience. The Loss/Momentum Framework (RP Group, 2012) is used in two separate ways; first to scrutinize specific institutional barriers and supports that exist in graduate and doctoral programs in education as well throughout the university that influence the process of completing the thesis and dissertation.  Second, it is used to identify and examine individual characteristics, skills, and attributes of these students that serve as either barriers or assets to completing a meaningful thesis or dissertation.
Practical recommendations for improving the educational thesis and dissertation process are provided, and mentoring and strategic coaching approaches discussed.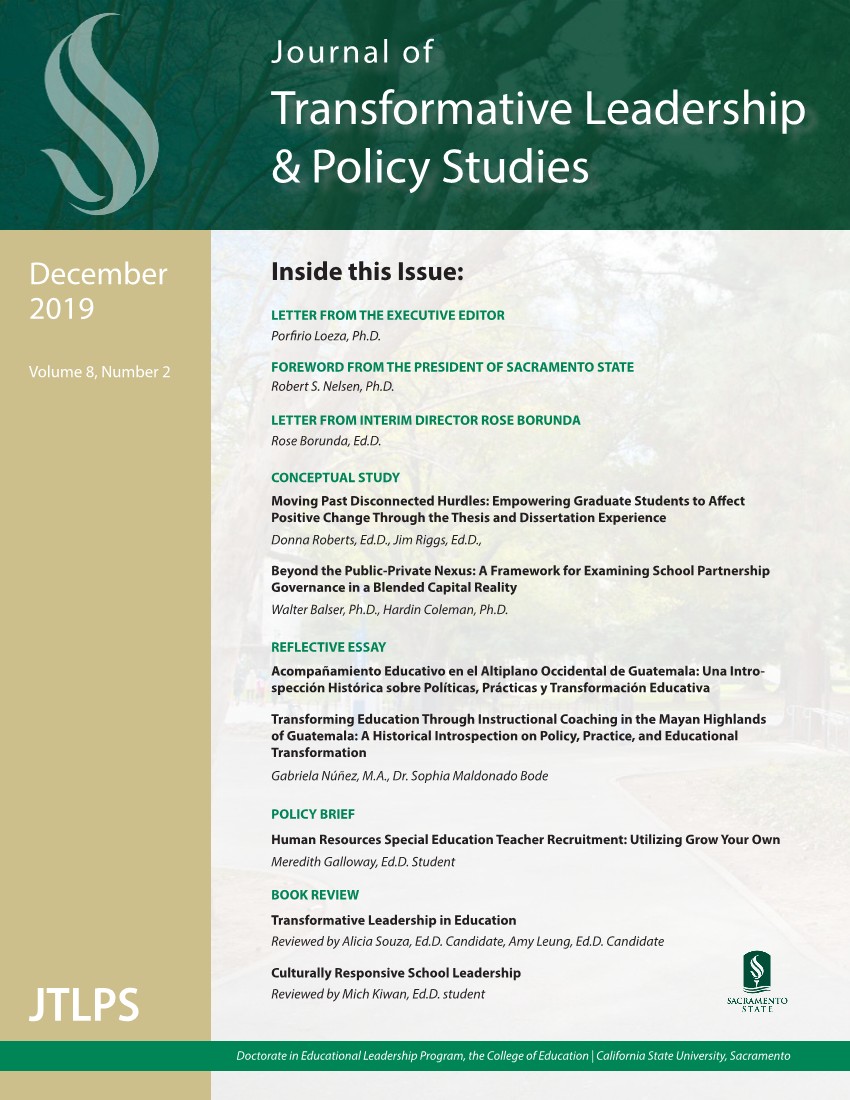 Copyright (c) 2019 Journal of Transformative Leadership & Policy Studies
This work is licensed under a Creative Commons Attribution-NonCommercial-NoDerivatives 4.0 International License.
Copyright policy